Join Widget FAQ
Business SMS marketing campaigns are known for the effectiveness. With an average open rate of 98% and over 90% read in the first three minutes, it explains the extraordinary results. Text messaging has an average 45% response rate compared to email that only has an average response rate of 6%.

So the big question is HOW DO I BUILD MY LIST? or HOW CAN I GET MORE CUSTOMERS ON MY LIST?

SendHub's Join Widget can help! SendHub's Join Widget is a small snippet of code that can be put directly on your web site in order for your customers to be able to sign-up and opt-in for your SMS marketing campaigns.

The widget's embed code will allow you to put a button(s) on your web site that your customers will be able to click and then fill in their information.

Once the button is clicked, your customer will fill in their information along with the option to pick the group (if you have multiple group) they would like to opt-in.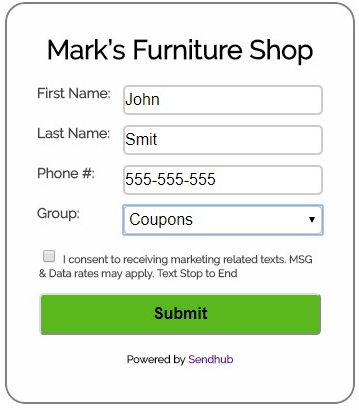 Once your customer clicks the Submit button their contact information is automatically saved into your SendHub account and a member of the selected group. At this point, your new customer will be a part of your SMS campaigns for that group.

Other FAQs:
This application uses SendHub's API and your SendHub account has to have API access.

What is a group?

A group is a way to categorize your contacts based on a specific demographic or preference. This allows you to market specific messages to your contacts that have an interest in your messages / coupons.

Can my customer opt out of my campaign?

Your customer can opt out at any time by texting Stop to your number.

If my customer opted out can they opt back in?

If you customer opted out by texting Stop to your number, they can opt back in by texting Start to your number.

How do I install / setup this widget?