Each plan has their own types of limits. Depending on your payment plan, you will have your own monthly message limit (unless you are on an unlimited plan with overages), a max recipient per SMS limit, possibly a limit on the number of lines you can add and a limit of the amount of API calls.

To check your limits and usage you can click the gear icon at the top right of your page, go to My Settings, and scroll down to 'Plan'.

Once you're at your plan you will see: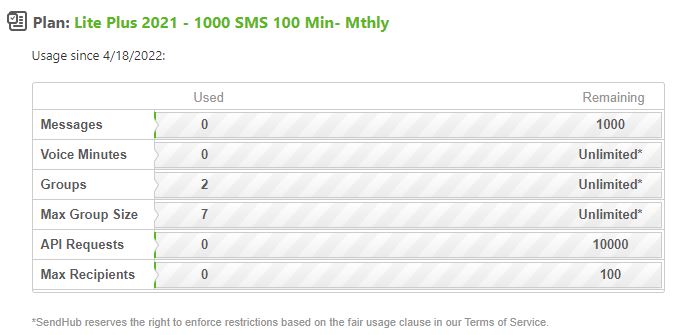 If you've reached an account limit, or received a message saying "Account Limits Reached", it's possible it can be for some of the following reasons:

- You've reached the maximum number of SMS messages in your account for your current cycle. For example, if you've used 3,900 messages on our Basic Plan and you're trying to send a message to 150 contacts, you'll receive the Account Limits Reached error message. In order to be able to send more messages, you'll need to upgrade your plan, or you'll have to wait until your billing cycle restarts.
Another option is to purchase one-time messages from the My Settings page. You can purchase these in 500, 1000, 1500, or 2000 message increments. Please keep in mind one-time messages do not roll over month-to-month, so purchase only what you need until your next monthly renewal date.

Note: SMS usage counts outbound AND inbound messages as well as SMS segments

- You're trying to send a group message to more contacts than your plan allows (maximum recipients). For example, if you're on the Lite Plan and trying to send a message to 100 contacts at once, you'll receive the Accounts Limit Reached error message. To resolve this, you'll need to send to fewer than 50 contacts at once, or you can upgrade your plan to one that allows for larger group messaging.

- You're trying to add too many lines to your SendHub account. You'll need to upgrade to a plan that allows for more lines.

- You've used up all of the allotted API requests for your account. Please reach out to our sales team (sales@sendhub.com) to discuss options on upgrading your account.