SendHub's Follow Up Boss texting integration makes real estate lead capturing and marketing easy! Please check out our Follow Up Boss eWebinar Demo at your convenience.
How To: Connect Your Follow Up Boss Account With SendHub
Go to: https://integrations.sendhub.com/ and sign in with your SendHub login details.


Click the drop-down arrow on the Follow Up Boss option and then click the drop-down arrow on the Action Plan SMS option.





Click the 'Connect Follow Up Boss Account' button, then enter a nickname for your Follow Up Boss account and enter your Follow Up Boss API Key.


Note: Only the API Key of the Follow Up Boss account with the 'Owner' role will work




Your Follow Up Boss API key can be found in your Follow Up Boss account under Admin > More > API.




Select the Follow Up Boss account that you just added.




Click the toggle switch in the bottom-right corner to turn on the integration and you're done!




Updated Features:
You now have the ability to schedule what time of day your Follow Up Boss text messages will be going out and which of your contacts numbers to send a message to.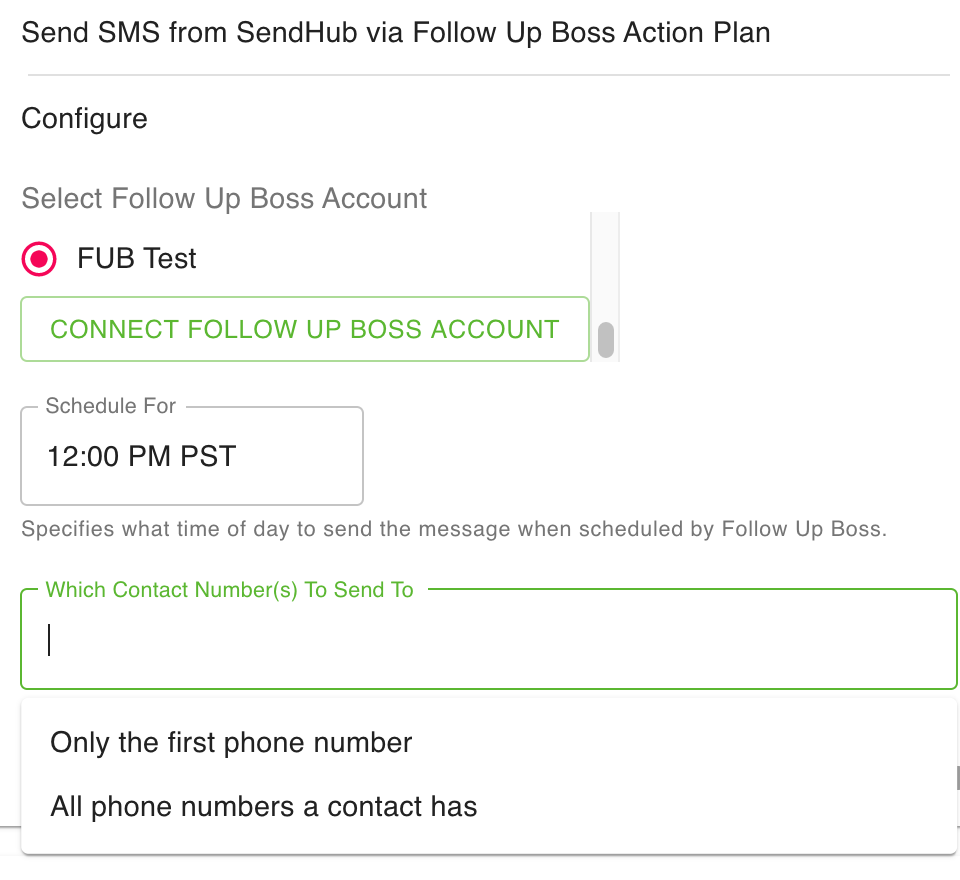 During your integration, you can also choose to sync contacts between SendHub and Follow Up Boss.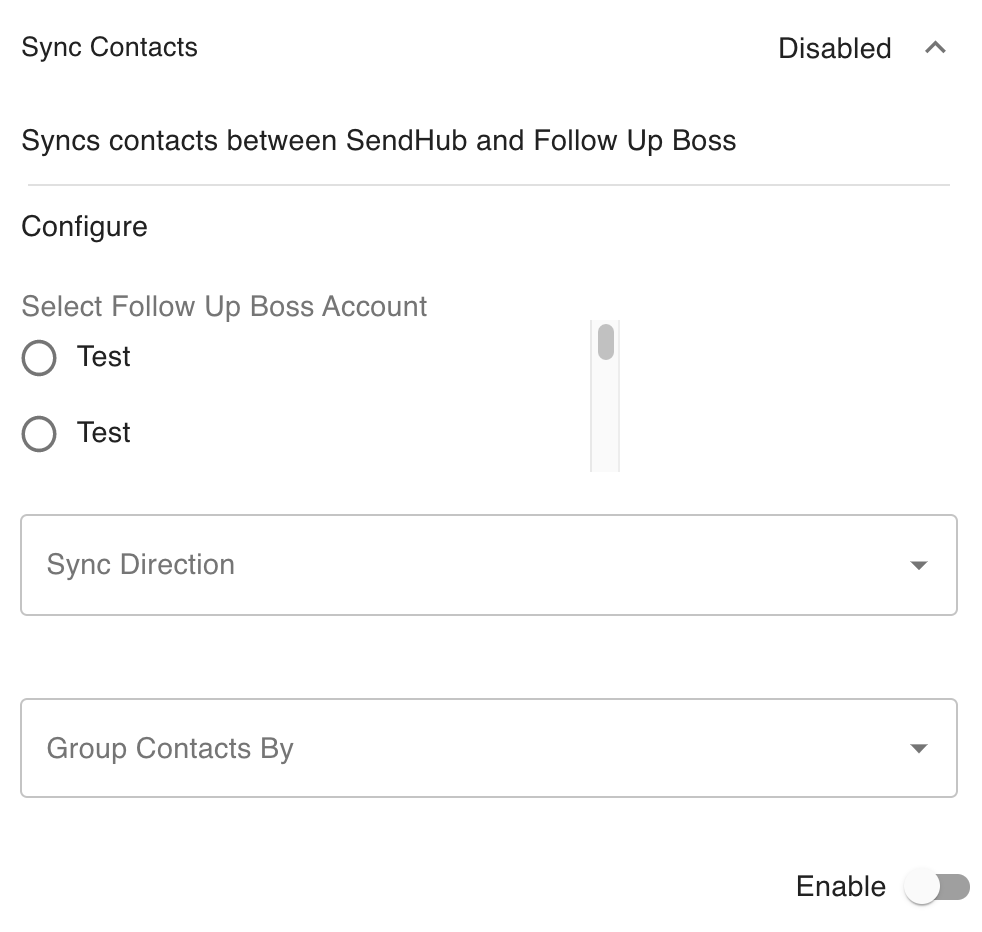 Now that you've integrated your Follow Up Boss account with SendHub, you can send text messages in your Follow Up Boss Action Plans.
​​​​​​Add a 'Create Task' action to any Action Plan and set the 'Task Type' to 'Text'.




Enter the message that you want to send in the 'Task Name' field.





An easy way to draft a message and insert Merge Fields is to use the built-in Initial text message feature

Click 'Add initial text message' and draft your message with any desired merge fields

Copy your drafted message and click the 'trash can' icon


Paste your message into the 'Task Name' field of the 'Create Task' action.

Click save and you're done!
Reminders
There are a few things to keep in mind when integrating your Follow Up Boss account with SendHub.
When the integration is enabled, a SendHub message will be sent to the associated contact when any 'Text' Task is created. To avoid potentially sending unintended messages, be sure existing integrations, manual processes, or Action Plans will not create Tasks with the type of 'Text'.
Message segmenting still applies for messages initiated via the Follow Up Boss integration. Follow Up Boss does not have a character counter, meaning it is important to be aware of how many characters you are sending to avoid going over your plan's limit. To learn more about how you are billed for messages read our message segmenting article.
If you would like to integrate your account with Follow Up Boss or upgrade your SendHub plan, contact our sales team! If you have any more questions regarding the integration, contact our support team and we'd be happy to help!