SendHub uses the standard short-messaging-service (SMS) to send text messages, so text messages can only be sent to mobile phone numbers or other SendHub users.
But unlike most messaging tools that use SMS, SendHub allows you to send text messages up to 1600 characters. It's important to know that each SMS message can only be 160 characters if using standard character or 70 characters if using special charactors or emojis. Messages longer than that length and will be segmented. Your account will be charged for each segment. To learn more about message length and segmentation please click
How am I billed for long messages?
.
To send a text message (SMS) with SendHub, click on the "Message" button at the top of the screen. The message input screen will appear.

In the "To" field, add the contacts, Groups, or individual mobile phone numbers you want to send your message to. You can add up to 25 individual contacts at one time or add multiple groups.
In the "Message" field, type the text message you want to send. If you'd like to send the message immediately, click "Send."
Scheduling text messages for later
If you'd like to schedule your text message to go out at a specific date and time, click the clock icon and enter your desired date and time in the fields that appear. SendHub will automatically send your message at that time.

To access the list of your scheduled messages, go to your "Messages" inbox, click the down arrow next to "All Messages" and select "Scheduled" from the drop-down menu.
From there, you can edit or delete any scheduled messages that have not yet been sent.
Sending text messages with attachments
SendHub also makes it easy to send text messages with attachments. These attachments can be PDFs, photos, Google Drive documents, and more.
To send a text message with an attachment:
Create a new message and select the contacts you want to send the attachment to

Type a short message in the "Message" field

Click the paperclip icon below the "Message" field. A file chooser window will appear. From there, you can find attachments from your computer's hard drive, your Dropbox, Google Drive, or Box accounts, or photos from Facebook and Instagram.

Select the file you'd like to attach.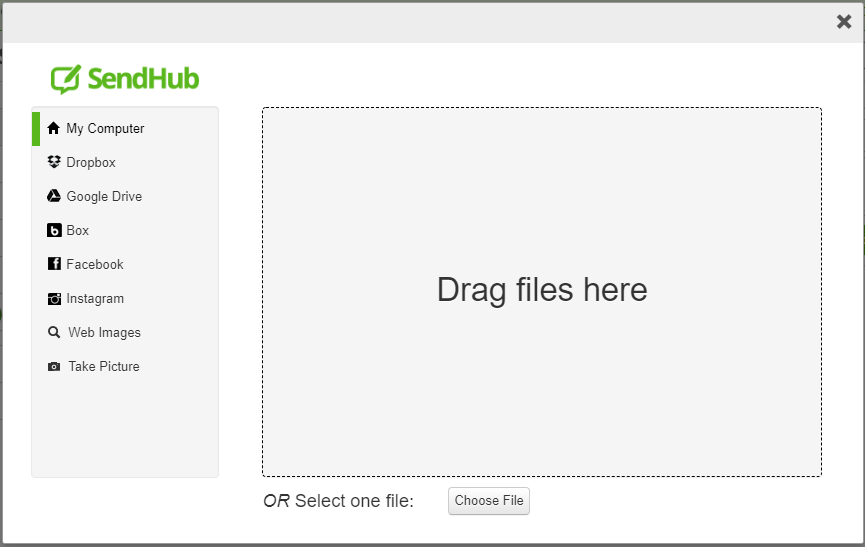 When you send a text message with an attachment, SendHub uploads the file to our secure servers and creates a link to it unless you are on a customized plan that includes
outbound MMS
in which case the message would be sent via MMS. If you are not on a plan with MMS, the image is sent as a media url within the text message that your recipient will have to click on to view your image that is hosted on SendHub's cloud.
Note:
This attachment link will not be visible in the "Message" field. It will only appear once you've sent the message.

Note: The characters in the link will be counted toward characters and segmentation.
When your contacts receive the text message with the attachment, they can simply tap the link to access the file you've sent.



Including a signature in your messages
SendHub allows you to include a signature with every outgoing text message.

To add a signature to every text message:
Navigate to "My Settings" by clicking the gear icon in the upper right corner

Scroll down to "Message Settings"

Type your desired signature into the text field below the "Signature" option
Sending messages using API
If you'd like to send your messages using SendHub's API, take a look at our developer page
here
.